Dashboard Course Offer
Knowing How to Make Amazing Excel Dashboards Will Take Your Career to the Next Level
Excel Dashboards are the new buzzword employers are looking for.
If you want a career that involves creating reports in Excel, then you need to know how to create impressive, interactive, and easy to read Dashboards
This course will get your skills up to date by teaching you how to create Dashboards that will wow your boss (or your prospective employer) even if you don't have an artistic bone in your body.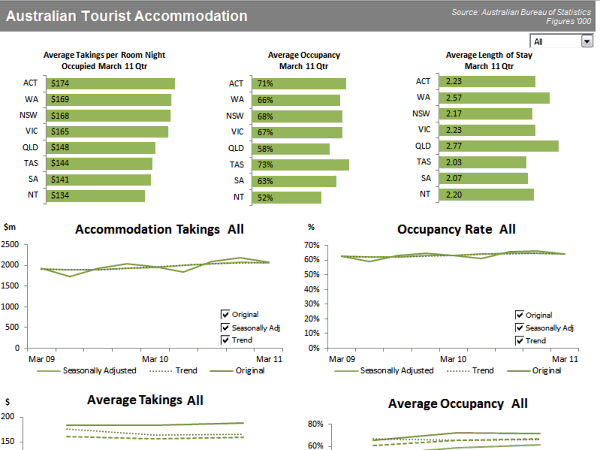 So, what is an Excel Dashboard?
An Excel Dashboard is simply a report like the one above that:
Usually fits on one page
Displays key trends, comparisons and data graphically or in small tables
Provides the reader with conclusions to their objective
Is often interactive allowing the user to filter data and switch views themselves
Employs best practices that enable the report to be updated quickly and easily (often at the click of just one button)
Dashboards can be complex or simple, fancy or plain. They can contain financial or non-financial data, or both. They can work with any data in any organisation.
This comprehensive Excel Dashboard Course will teach you the simple techniques you can apply in Excel to make killer dashboards that will set your skill level apart from the crowd.
What You Get in the Course
Over 4 hours of video tutorials specifically on Dashboards plus another 3 hours of related Excel training that will fill in any gaps in your Excel knowledge on topics like PivotTables, Lookup Functions, Macros and more.


The pace is pretty fast because I hate courses that waffle on. I like to get straight to the point so you're up to speed fast, and I've designed it so that if you need to re-watch anything you can rewind and replay the videos as many times as you like, or just refer to the instructions in the workbooks.


You can download the actual Excel files used in the filming.

These files contain step by step instructions so you can either use them on their own instead of the videos (these are great if you like to skim read like I do),
use them to practice what you learn and build your confidence,
or keep them forever as a reference tool that you can go back to later on to refresh your memory (let's be honest, we never remember everything the first time we see it).



3 x sample Excel dashboard reports that you can steal ideas from and reverse engineer.


Homework Challenge. Practice what you learn so that you don't forget it. Plus you'll be creating a dashboard of your own that you could use for job interviews to showcase your skills. If you like you can even send it to me and I'll review it and give you feedback.


An index of the course topics and terminology that are covered so you can easily find a tutorial you want to watch again.


6 weeks of support from me. Each session has a comments section where you can post a question and I'll post you an answer. These Q&A's will be available for everyone in the class to learn from too (you can even post the answer to your classmate's questions if you know it), making it a truly interactive class. Or, if you prefer you can email me your questions direct.


The training is delivered online and tutorials are available to watch 24/7 at your own pace. Pause, rewind, replay as many times as you like.


12 months access to the video tutorials and file downloads. There's even a download option where you can download all videos in the course and keep them on your own PC forever.


When you've finsihed I'll send you a 'Certificate of Completion' saying you've completed the course which you can add to your resume/CV arsenal.



Watch a Sample Tutorial
Click on the video below to start watching. Click on the white rectangle on the bottom right of the video control bar to watch the video in full screen.
Who is Teaching the Course?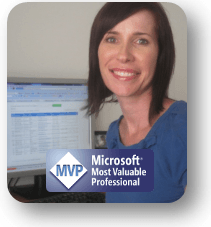 That would be me, I'm Mynda Treacy, Co-founder of My Online Training Hub.
I have been working with Excel since 1995 and teaching since 2010 (not including teaching many colleagues over the years), and I'm excited to be able to share what I have learned with you.
Back when I started using Excel I was lucky, in that you weren't expected to know how to use it! As you'd know, that's not the case these days.
What you learn in this course will apply to all you do in Excel. From best workbook design, right through to advanced formulas and charting.
Once you've completed the course and practiced what you learn you'll be able to confidently state on your resume/CV that you not only have 'Excel Dashboard skills', but also 'Advanced Excel Skills' because most of what I teach is very advanced.
Behind The Scenes Video
Click on the video below to start watching. Click on the white rectangle on the bottom right of the video control bar to watch the video in full screen.
Who Is It For?
The course is for you if you:
Want to change career or apply for a new job;
Already prepare reports of any kind that require updating with new data on a regular basis (weekly, monthly….) and, or;
Work with charts and, or;
Work with large volumes of data and, or;
Import data into Excel from another source e.g. another database, Access, Web, Text files etc. and, or;
Often don't know the best chart to use to display your data.
Note: This course is not for complete beginners but if you've put together any type of report in Excel before then you will definitely benefit from the time saving tips and data visualisation techniques I share with you.
What It Will Do For You
In the course I teach you how to build Excel Dashboard reports from the ground up.
By applying the simple rules I share with you, you will have the skills to be able to create reports that save loads of time (allowing you to go home early

) and you'll quickly become known as a Dashboard Superhero with reports that are:
Quick and easy to update, in fact they can update themselves (imagine being able to confidently say that in an interview) by pulling in data direct from your external database, Microsoft Access, the web etc. at the click of a button if you set them up right (I show you how).


Fully interactive so the reader can change the view themselves; they can filter by product, time period or any parameter you choose, they can show and hide data using check boxes, drop down lists, and option buttons to name a few.


Easy to read and interpret; plus I share with you a heat map of your page that shows you where your most important data should go and where will get the least attention.


Exactly what the reader wants; I teach you the 5 key questions to ask and to who in the planning stage of your report so you get it right first time.


Choose the right chart for your data; I teach you over 20 charts and show you which type of chart will best display your data.


Just take a look at the two charts below. Both plot the same data but one is much easier to make comparisons in the data than the other. You be the judge.



Professional presentation. I teach you simple visualisation techniques so your reports will look like you've had a graphic designer involved even if you are completely lacking in artistic talent (like me).


It's Tried and Tested
Before launching this course I had some of my trusted advisors test the course for me. They come from varied industries and ability levels.
One of them didn't know what a Dashboard was before taking the course and another is an Excel trainer.
They've given me feedback on some improvements which I've implemented, but overall their feedback was resoundingly positive.
I am forever grateful for their time and kind comments. Thank you, you know who you are.
Here are just a few of their comments:
"The design is excellent, easy to follow, examples clear. "
"I like the materials available for download, so your users can work on their own. "
"The pace of the course is perfect. "
"Your use of terminology makes learning a new language painless."
"I especially liked Section 3 on design principles. I have always believed in data quality but data organization and presentation is so very important to communicating ideas and information. "
"I found them (the tutorials) very complete and packed with good tips and tools for presenting data."
Feedback From Past Students
I have to tell you that I just downloaded the Session 4 workbooks. They are fantastic. I thought I would have to take notes in order to recall your instruction. Not at all – it is all in the spreadsheet. Your online tutorials and download material are extraordinary. I am so impressed.
I will be recommending your online training to my colleagues. Your workbooks are easy on the eye and very easy to understand.
I am terrified by the thought of writing formulas. You explain them and make it look so easy.
Thank you.
Kerry Toop
I have a Master of Education and my specialty is Learning Management Systems, particularly Moodle. I love learning on-line and this aspect of your course really suits me.
I love the material that you produce and from a pedagogical and e-learning perspective, your material is first class.
Kay Fenton
"Any scepticism I had before joining the course was based on the fact that no matter how good a course true knowledge will only come from practice. Your course has delivered – the videos are excellent providing short (ish) chunks that can be easily absorbed. You certainly stick closely to what's really important to know and avoid over complication. There are some sections that require a bit more knowledge than the average user but people choosing this course will probably want to expand their knowledge from a reasonable base.
There are some very advanced courses on the market which claim to be aimed at the competent user. I've tried a couple but yours is the most practical and provides a complete dashboard solution in the shortest time. The course looked and has proved to be good value. The pricing is quite cute and being a premium member has made it really worthwhile – sometimes you need to revise a particular technique. The ability to download the course makes absolute sense as there will be times when I will want to come back to it time and again. Having the videos on your own drive together access to the premium tips for further reference is an excellent combination.
I have designed a couple dashboards before but the course has helped me know they are on the right lines as well as better understanding the technical aspects.
I would highly recommend this course to anyone with an interest in Excel and particularly those having to present data – whether in a work or study environment.
The Hub is just about the best training resource I've come across – I haven't looked too much into the non-Excel parts but you seem to have found a way of presenting the really key techniques for the above average user to pick up and use in a very practical way. Similarly the tips that come through each week hit the mark."
Paul Becksmith
"Without question, this course has caused me to re-evaluate how I am building my reports, charts and graphs.".
Clay Chilcott
"Many thanks, Mynda, the parts I have done have been great, and I am using tips and tricks already.
Time is my worst enemy, but will be sure to download the videos to view over… Found myself doing that already.
I have taken a whole new approach to producing my monthly reporting pack for the Executive Management team using the techniques and tips learned in your course so far and in reading articles from Perceptual Edge – Stephen Few.
I can't wait to produce some snappy Dashboard's when I have completed the course. Cheers, I find your course excellent!!"
Tony McGuire
"I'm finally getting around to working through the course, and so far I'm really enjoying it – just completed section 4 and today working through 5.
I find your tutorial style very easy, and you're well-spoken so it's easily understood. "
Andrew Marshall
"I was a bit sceptical about signing up because you don't know if the teacher will be up to expectations, if the material will fit your needs and there are certainly some uncertainties linked to buying things online (you hear so much of fake sites and people having your credit card numbers afterwards and misusing them!)
But one of the main reasons for me to choose your training is that I found the content very professional and good. Then I checked your demo and I liked it. Finally I think the biggest decision maker was the fact that I could get all videos for later reference. This was certainly THE most important factor.
I often had training and took notes but afterwards when trying to re-do the exercise I would just miss a thing and it would not work. Probably you just miss a little important detail. But having the video I can always look back, and I often do actually.
Your Dashboard course has already saved me a lot of time! I haven't done my own dashboard yet but I have used some of your tips and presented them during meetings and people were really positive (some even impressed

).
I like the fact that it was an online training because it makes it very flexible. You can access it whenever you want and the fact that all the programs are split into several sessions of even only few minutes was certainly a huge advantage.
So even if sometimes you just have 15mins you can just log in and follow one session. I like that a lot!
I would recommend it to anybody using excel a lot. I already did so by the way. Some people asked me to assist them for some Excel issues and I just told them to go see your site!"
Karine
"I'm enjoying the course and learning a lot. I appreciate your straight-forward style and getting right to the point.
The way you made charts dynamic by making them dependent upon the true or false contents of one cell blew me away. That is so simple yet is something that I would never have stumbled upon by myself."
Greg
"I would like to thank you for the great dashboard training. I have already begun to use some of the new techniques in setting up reporting to upper management.
I would categorize myself as an intermediate user of excel. The course was easy to understand for my level and very well demonstrated."
Martin Lewis
"I enjoyed watching the videos and got a lot out of it.
I would recommed it to all Excel lovers who like to enhance their Excel skills by transforming data into visual interactive summaries.
There is a bunch of detailed videos from compiling your data to the end result and the videos on different types of charts are great.
Formulas, form controls, interactivity, automation, the course has it all to make you a true Excel dashboard hero.
I would highly recommend it to anyone planning on taking Excel to a higher level."
Mohammed Mustafa
"Each Video combined with the Excel Files are helpful to learn quickly and faster. And these videos have great tips on how to use little macros which can become so powerful while making dashboards.
Lots of functions like VLOOKUP, HLOOKUP, CHOOSE, INDIRECT with check boxes, and listboxes etc. are a powerfull combination to represent the data more effectively without showing the original data.
And your support is also big factor to learn it quickly."
Neil Johnson
"I wasn't at all sceptical about signing up for your training. You'd popped up a couple of times when I'd Googled my excel conundrums and your responses were clear – I particularly liked the pirate map explanation for the offset function. I'm definitely more of a visual learner so that made sense to me instantly. The fact that you were from home was a plus, I love seeing the cultural references in some of the examples.
The clarity of explanations was a huge factor in deciding to join, but what probably made the decision was the offering of the dashboard course – the timing was pretty much perfect.
I liked the fact that I could download the workbooks to refer to and also that you were flexible when it came to getting the video download feature at a later date if I found that I needed it.
You also responded to my queries quickly which is a great benefit when you're trying to figure something out. It's almost like having a guru in the office next door.
There have been so many benefits since joining it's difficult to know where do I start! There are too many to note.
I think that my spreadsheets are cleaner, I'm taking fewer cells to get to the end result. I'm starting to think outside of the box when it comes to solving problems – although I still very much rely on the tutorials for the finer details. I included an interactive chart in a presentation which generated a 'wow' response – looking forward to the response when I get around to creating a whole dashboard!
Also, being able to ask you specific questions and send an example has been a great time saver. I tried both of the options that you suggested, but neither work quite as I need them to, however, I've taken elements from your suggestions to make my current version more user friendly. I'm hoping that I'll get the final answer from your VBA course! In terms of saving time, I've stopped trying to find the solution which is incredibly time consuming and frustrating!
I've recommended your courses to a few people, not sure if they've taken it up yet. Colleagues, friends, family."
Brooke Ferguson
Choose Your Membership Level
| | | | | |
| --- | --- | --- | --- | --- |
| | $147.00 | $297.00 | $247.00 | $397.00 |
| Dashboard Videos 4 hrs | | | | |
| Download Dashboard Videos* | | | | |
| 3 Sample Dashboard Files | | | | |
| 6 Weeks Dashboard Support | | | | |
| Homework Project | | | | |
| Dashboard Course Index | | | | |
| Unlimited 24/7 access | | | | |
| Pause, rewind, replay | | | | |
| Download Workbooks Used in Filming | | | | |
| Excel 07 & 10 Premium Course | | | | |
| Word 07 & 10 Premium Course | | | | |
| Outlook 07 & 10 Premium Course | | | | |
| 102 Excel Tips & Tricks Videos | | | | |
| 95 Word Tips & Tricks Videos | | | | |
| 98 Outlook Tips & Tricks Videos | | | | |
| Access to new Microsoft Office Training | | | | |
| 30 Day Money Back Guarantee | | | | |
*Videos will be available for download after 30 days.
Note: prices are +GST for Australian customers.
Love It or Get It Free Guarantee
Look. Who are we kidding? This course is being taught online …so it's not like you have to send anything back if you're not happy.
So here's the deal:
Enrol now and take the course. I mean REALLY take the course. Download the workbooks, watch all the videos, ask me questions. Get as much out of it as you can.
Once you're done, ask yourself, "was this worth it?"
If your answer isn't a resounding YES, then let me know within 30 days and I'll refund you, no questions. So you literally have nothing to lose.
Registration Closed
I'm sorry, you missed the last class. If you'd like to be notified when classes will begin again July/August 2013 fill out your name and email below, and I'll let you know when it's available.
Other Great Resources
You can also check out some of our other useful Excel content.